---
How is Apple iPhone 13 Pro? what is iPhone 13 pro pros and cons? is it worth its Cost? Is it Right for Mi? what is Real Users Reviews? can iPhone 13 pro be purchased?
While the iPhone 13 Pro doesn't look much different from the 12 Pro, it's one of the best smartphones of 2021. With its battery life, top-notch performance, great camera package, and super-smooth 120Hz display, it's considered Apple's best Pro model and best iPhone to have. None of the upgrades for 2021 are huge on their own, but when all the upgrades come together, it's a great smartphone experience for users.
By buying the iPhone 13 Pro, you get all the essentials of the 13 Pro Max (except battery capacity and screen size, of course) without straining your wallet. You get excellent camera performance, powerful A15 Bionic processor, 120Hz ProMotion display and almost two days of battery life by purchasing the best iPhone 13 model at the cheapest price. Unlike last year, where only the 12 Pro Max had the ultimate camera system, this year the differences between the Pro and pro max are no longer in quality, but only in quantity. iPhone 13 Pro also has many advanced features such as Face ID, accelerometer, gyroscope, proximity, compass, barometer, NFC, Siri natural language commands and Ultra Wideband (UWB) support. click to see Apple iPhone 13 pros & cons and iPhone 13 mini pros and cons
We told the pros, but what are the cons? One of the most notable things about the iPhone 13 Pro is its weight. Weighting in at 203 grams, real user reviews point out that the 13 Pro is heavy. consider this before costing.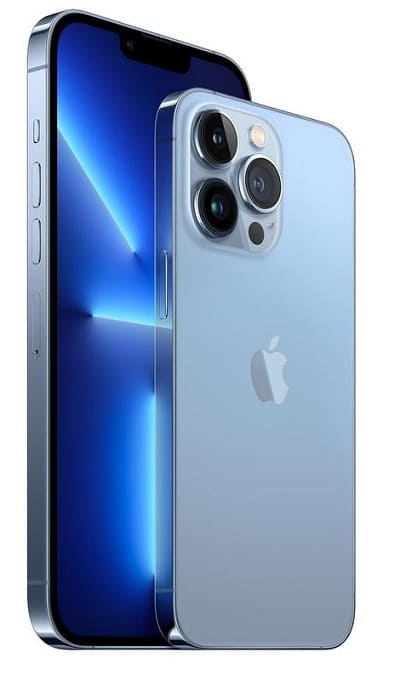 How is the Cost and Specifications of 13pro
DISPLAY : 6.1-inch Super Retina XDR OLED, HDR10, Dolby Vision, 1000 nits (HBM), 1200 nits (peak), 1170x2532px resolution, 19.48:9 aspect ratio, 460ppi; Wide color gamut, True-tone.
CHIPSET: Apple A15 Bionic (5 nm): Hexa-core (2×3.22 GHz Avalanche + 4xX.X GHz Blizzard); Apple GPU (5-core graphics).
MEMORY: 6GB RAM, 128GB, 256GB, 512GB and 1 TB
Battery: 3095mAh; Fast charging 23W, 50% in 30 min (advertised), USB Power
NETWORK: 2G, 3G, 4G, 5G
CAMERA:

Wide (main): 12 MP, f/1.5, 26mm, 1.9µm, dual pixel PDAF, sensor-shift OIS;
Telephoto: 12 MP, f/2.8, 77mm, PDAF, OIS, 3x optical zoom;
Ultra wide angle: 12 MP, f/1.8, 13mm, 120˚, PDAF; Depth: TOF 3D LiDAR scanner.
Video capture: 4K@24/30/60fps, 1080p@30/60/120/240fps, 10‑bit HDR, Dolby Vision HDR (up to 60fps), ProRes, Cinematic mode, stereo sound rec;

SELFIE: Wide (main): 12 MP, f/2.2, 23mm, 1/3.6″; Depth: SL 3D. 4K@24/25/30/60fps, 1080p@30/60/120fps, gyro-EIS.
Cost: it can be purchased starting from $1000
---
How is Apple iPhone 13 Pro Pros and Cons
iPhone13 pro Pros (worth its Cost)
Great to finally see a 120Hz display on an iPhone
Interesting macro photography mode
Very long-lasting battery
Comes with 1TB storage option
3x optical zoom
Incredible performance
Premium, smooth usage experience
Spectacular cameras
Brilliant & versatile cameras
Face ID
long software support
ProMotion 120Hz OLED display
Packs lots of power into the size
Incredible camera and video performance
iPhone13 pro Cons (don't worth its Cost)
Other phones have better zoom
Limited design changes
Not all third-party apps are optimized for higher refresh screen
Lens flare still an issue
need your own charger
Fast charging limited to 20W
No always-on display
Shorter battery life than the iPhone 13 Pro Max
That notch is still wide
Average Selfie camera
Pro models have fewer of the special features that justify the higher prices
Heavy and Expensive
No mask-friendly face authentication
4K ProRes video limited to 256GB and above
not cutting edge.
A bit boring
No USB-C
he notch feels dated
---
iPhone 13 pro Real Users review and Comments
---
13pro Users Positive reviews 1
---
It's a great product, Above all Apple has outdone itself in terms of battery, it doesn't run out of battery
I upgraded from the iPhone XS Max, and I absolutely love this iPhone 13 Pro!! so great buy and I recommend it!!
Love the camera. Love the color. The battery actually does last long shocking.
13 pro works really fast seem soo 3D camera works and looks really clear. That is to say it can be purchased
It's absolutely awesome! Best iPhone I have had thus far!! the display XDR pro motion liquid retina is the best Apple has made. I definitely recommend upgrading.
Very reliable. Sufficient. Everything you need in the grip of your hand.
Great Camera – Worth The Money – Features Are Awesome
Phone is responsive and the screen is vibrant and smoothly with the 120 Hz refresh rate
The macro camera is the feature that sold me. This phone is a big step up in photo quality and battery life from the iPhone XR it replaced.
Upgraded from an iPhone 11 Pro, totally worth its cost for the battery alone. The camera and screen are fantastic, they really take advantage of the new features of iOS 15. it can be purchased.
13pro Users Negative reviews 1
---
It's Just a phone.

But n

ew charger block required and no headphones. Cameras are ok.

Stupid charging verry first charged down. when charged 100% get down 92-95%
Bad phone. Same design . Don't buy it, it is just wasted cost.
The phone touch is not working properly. Therefore I am not happy with product.
I upgraded my XR to 13 pro & not much of a difference it is slow & heavy. 5G can't really tell any difference then regular.
I don't know what the big hype was about…it's not any different from my iPhone 12- with the new upgrade iOS 15
Same as iPhone 11. Just a little bit smother since it have pro-motion. It's not worth the cost unless your old iPhone have a bat Health of 73%. Also cameras are a little bit better. If you just want it for the cameras, just buy a action camera and use the phone as screen.
My only complaint (and it's important enough to lose a star on the rating scale) is Apple's stubborn refusal to build a phone with a USB-C port. Their MacBooks have them. Their iPad Pros even have them. Apple, let's talk. It's way past time.
I've been an apple user since the iPhone 2 came out. Sadly the 13 pro is slow, takes too long to load pictures on apps, not sure if it's the 5G network but I was not having this issue before with the 11 pro I had.
iPhone 13pro Users Positive reviews 2
---
The camera is absolutely the best I've seen in a smart phone. The battery life? Even better. I typically end the day with 50% or more. Should get better as it learns my consumption. Screen is so vivid. Find a 120hz high res video and watch on it. Good stuff! Sierra blue is beautiful. Favorite thing is macro photos. Went to a garden the other day and snapped some amazing pics of insects. Cinematic mode is very awesome for shooting video. Huge step up for Apple. it can be purchased.
it is one of the best things I have experimented with. Switching from an iPhone 11 to the 13 pro was definitely worth it. Magsafe capability is something you should be willing to do as well considering it only builds upon what the phone can do. If you have an iPhone 12 you do not NEED this upgrade, but it is improvements if you are looking for them. If you have anything prior to the iPhone 12, then you should really consider getting this iPhone.
This new chip is amazing I multitask and wow just wow!! the camera system as well as the cinematic video mode!! The 120hz display rate is something cool to see on the iPhone to be honest I like it more than the s21, not to say T mobile has a good trade in value I did not mind upgrading for just 300 dollars and saved 800 dollars on the new 13 pro! Battery is amazing all day battery and with fast charging I never have to think about my battery life go low!
iPhone 13pro Users Negative reviews 2
---
I recently decided to switch back from android to apple and regret it very much. After using this phone for a while and getting used to it I had come t realize that this is the worst phone I have owned in a long time. Numerous dropped calls on 5g and Wi-Fi, poor reception literally everywhere. Lots of apps are not working correctly. Only reason for 2 stars is because the camera is not had bad. Biggest mistake I've ever made phone shopping. if you want to be able to make calls it's not worth the cost
Overheats and issues with Spotify and FaceTime are some of my current problems. Also a green pixel on the screen that only appears during FaceTime calls. Battery lasts less than my old iPhone 8 Plus… not too happy. I do love the camera. Clicks are wonky, integrations are not fully done.
See Also