---
In 2024, the best smart watch for seniors, along with social connectivity, safety, and autonomy, need to do some of the vital health checks of the elderly. But best Smartwatch for seniors can also track heart rate, fall detection, blood pressure monitoring, measuring the skin, and blood oxygen levels.
Smart watch for seniors features
Some key smart watch features that seniors should look out for in 2024 are:
Smartwatches with heart rate monitoring and Electrocardiogram(ECG)
An electrocardiogram (ECG) is a test that records the electrical activity of the heart. It is used to measure the rate and regularity of heartbeats, as well as the size and position of the chambers, the presence of any damage to the heart, and the effects of drugs or devices used to regulate the heart. The best Smart watches for seniors most have ECG sensors that can detect atrial fibrillation (AFib), a serious heart rhythm disorder, by conducting an electrical circuit through the wearer's body. Some new and latest smart watches can also identify and distinguish between different types of heart attacks by placing the watch in multiple spots on the body. Smartwatch EKG can export a graph of the heart rate that can be useful for doctors.
Apple Watch Series 4, 5, 6, 7 and 8 models, Google's Fitbit Sense health-oriented watch and Charge 5 devices an Samsung Galaxy Watch4 and Watch5 also have the feature.
Smartwatches with fall detection
A smart watch with fall detection uses an inbuilt algorithm that can detect when the wearer has had a fall by sensing the fall in the wearer using the accelerometer and gyroscope tech within the smart device.
Some smart watches with fall detection feature can detect a hard fall and call for an emergency by sharing your location so that the rescue team can reach you on time. This is accomplished by calling either 911, a professional response center, or a preassigned contact.
Smart watches with fall detection feature for 2024 include Apple Watch SE, Series 4, or newer, Galaxy Watch 3, Active 2, and Galaxy Watch 4, and Garmin Forerunner 945.
Smartwatches with blood pressure monitoring
Some smart watches have blood pressure monitoring features. A smartwatch with a blood pressure monitor tracks your blood pressure and heart rate using sensors based on PPG that emits light to monitor heart rate and blood pressure. The accuracy of blood pressure watches varies according to the product. Always be sure to read the reviews thoroughly on any blood pressure tracking watch you purchase to get an idea of accuracy.
The Omron HeartGuide is the first and only FDA approved smart watch with a blood pressure monitor. Other smart watches with blood pressure monitoring features for 2024 include Lige, Mgaolo and PopGlory.
Smartwatches with measuring the skin temperature
Some smart watches have sensors that can measure skin temperature. For example, the Apple Watch Series 6 has a sensor that can measure the skin temperature on your wrist. Smart watches such as the Fitbit Versa 3 and Samsung Galaxy Watch 5 come equipped with skin or body temperature sensors that can measure your "peripheral" body temperature after strenuous physical activity such as workouts and can even help manage stress levels. The Fitbit Sense can also detect variations in skin temperature. This feature is not yet available on Apple or Samsung smartwatches.
A smartwatch with a sensor that can measure the skin temperature on your wrist can be used to monitor your body temperature. It uses infrared light to measure the temperature of your skin.
Smart watches with Sleep tracking
A smartwatch with sleep tracking feature can monitor your sleep patterns and provide you with information about the quality of your sleep. Most sleep trackers are a watch worn on the wrist and work by monitoring your body movements as you sleep to determine how much time you probably spent awake versus asleep. Some devices also look at heart rate changes during sleeping to estimate how much time you spent in each sleep cycle.
Smartwatches like the Apple Watch can track sleep using sensors like respiration rate, heart rate, blood oxygen, and pulse ox. The Sleep app on the Apple Watch can be used to set up bedtime schedules and goals, set a wake-up alarm, and view your sleep trends over the past 14 days.
Some of the 2023-2024 best smart watches with sleep tracking features are Apple Watch Series 8, Samsung Galaxy Watch 5 Pro, Fitbit Sense, Garmin Venu 2, and Withings ScanWatch.
Smartwatches with measuring the blood oxygen
Smartwatches can detect blood oxygen saturation levels using an SPO2 sensor. The read-out you get will give you your SPO2 level which is the same thing as your blood oxygen level.
Smartwatches measure blood oxygen levels using the Reflectance Oximetry technique, which projects Red and Infrared light into the wrist. This red light enters the blood tissues containing oxygen, reflecting the light back to the sensor. The difference between the level of injected light and reflected light is shown as the SpO2 level of a body. Another way that a smartwatch can measure blood oxygen levels is through the use of an electrochemical sensor.
There are many smartwatches that can measure blood oxygen saturation levels in 2023-2024 such as Garmin Forerunner 265, Samsung Galaxy Watch 5, Fitbit Sense 2, Garmin Venu 2 Plus, Withings ScanWatch and Apple Watch Series 8. You can check out this source for more information on the best smartwatches that can measure blood oxygen saturation levels.
Smartwatches with GPS tracking
Smartwatches with GPS are wearable devices that track your location, data, and activities. A smart watch with a built-in GPS receiver can use Global Positioning System to locate and track its location. The GPS helps enhance safety and fitness features on the watch. When a device uses GPS, it finds an exact location through what's called triangulation. The GPS works without the internet, so you don't need an LTE smartwatch to use the GPS features. GPS in a smartwatch works only when you do a workout or do any kind of activity.
Smart watch GPS tracking can be helpful for seniors. These smart watches can help seniors keep track of their location and can also alert authorities about their location in case of an emergency
Some examples of smartwatches with GPS for 2024 are Garmin Instinct Solar, Garmin Fenix 6 Pro, Garmin Forerunner 945, Polar Vantage V2, Coros Pace 2, Coros Apex, Suunto 9 Baro, Motorola Moto Watch 100, and Garmin vívoactive.
Smartwatches with Voice control
Smart watches can be controlled by voice commands. Smart watches with voice control can be helpful for seniors. These smart watches can be controlled by voice commands which can be easier for seniors who may have difficulty using small buttons or touchscreens. Most smartwatch brands have models with voice control features.
Some smartwatches with voice control features for 2024 are Apple Watch, Samsung Galaxy Watch, Fitbit Versa 3, Garmin Venu 2, TicWatch Pro 3, and Mobvoi TicWatch E3
Best Smart Watch For Seniors List
There are many smartwatches available for seniors in 2024-2023. Some of the best smartwatches for seniors currently in the market include:
1- Apple Watch Series 8: Best smart watch for seniors
The Apple Watch Series 8 features advanced fitness and health tracking tools, including a temperature sensor to monitor body variations and better insights into women's cycles. The device also features a thick front crystal over its display for improved durability. The watch has an Always-On Retina display with narrow borders that push the screen right to the edge, resulting in an elegant integration with the curvature of the case. The display is bright and easy to read even when your wrist is down. The large display accommodates all your favorite complications and makes tapping, typing, and swiping a snap.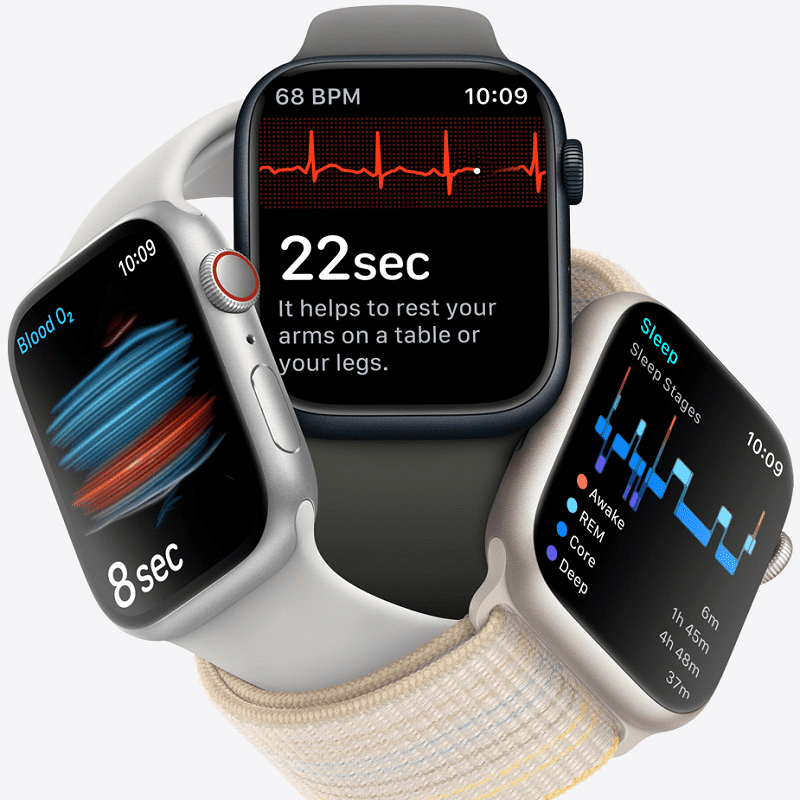 Apple Watch Series 8 for seniors
Temperature sensing: Apple Watch Series 8 has an innovative sensor that tracks your temperature while you sleep, so you can see changes over time.
Dream machine: The Sleep app doesn't just keep track of your time asleep. It shows you how much time you spent in REM, Core, or Deep sleep, as well as when you might have woken up.
Electrocardiogram(ECG): With the ECG app, Apple Watch Series 8 is capable of generating an ECG similar to a single‑lead electrocardiogram.
Measure your blood oxygen: The remarkable sensor and app in Apple Watch Series 8 allow you to take on‑demand readings of your blood oxygen as well as background readings, day and night.
Medications app: The Medications app helps you discreetly and conveniently keep track of your medications, vitamins, and supplements. And lets you easily log them from Apple Watch.
Crash Detection: Apple Watch Series 8 is able to detect if you're in a severe car crash. When a crash is detected, Crash Detection can automatically connect you with emergency services, provide dispatchers with your location, and notify your emergency contacts.
Apple Watch series8 price: $400-$700
Apple Watch Series 8 is the best smart watch yet. The watch has the same great design and larger screen as the Apple Watch Series 7. Apple watch also features a skin temperature reader for cycle and sleep tracking, crash detection, and new watchOS 9 workout interface. The watch has longer battery life with low power mode. But Users planning to upgrade from a Series 7 will definitely find the Series 8 too familiar.
2- Samsung Galaxy Watch 5: Affordable smart watch for seniors
Samsung Galaxy Watch 5 is the successor to the Galaxy Watch 4, and is best affordable smart watch for seniors in 2024. The Galaxy Watch 5 is available in two models: the Galaxy Watch5 and the Galaxy Watch5 Pro. Samsung Galaxy Watch5 Pro has a stainless steel case and a sapphire display, while the Galaxy Watch 5 has an aluminum case and a Gorilla Glass DX+ display. The Galaxy Watch 5 Pro is also more expensive than the Galaxy Watch 5.
Samsung Galaxy Watch5 features
Advanced Sleep Coaching: Advanced Sleep Coaching is here to help with tips and checklists for better sleep habits. It starts by analyzing sleep patterns and creates a 5-week program to guide you.
3-in-1 Bioactive Sensor: An improved, curved sensor design gets closer to your skin for more accurate heart rate and wellness readings.
Bioelectrical Impedance Analysis Sensor (BIA): Get all the stats to be your best. The BIA Sensor reads your body fat, skeletal muscle, body water, basal metabolic rate and more.
Optical Heart Rate Sensor: Monitor your heart rate during workouts and as you recover. With heart rate sensors and more, you can optimize your performance to reach new goals.
Auto Workout Tracking: Auto Workout Tracking automatically recognizes many popular activities like running and swimming in just minutes.6 You can also manually track more than 90 exercises, from intense HIIT workouts to chill yoga flows.
Overall, the Galaxy Watch 5 is a great smartwatch with a focus on health and fitness. It has a number of new features that make it a more powerful and versatile device than its predecessor. The Samsung Galaxy Watch 5 has received positive reviews. The watch has brilliant features but the one-day battery life is back. Galaxy Watch 5 is a great performer but not a 100% seamless experience. However the upgrades are few and far between compared to its predecessor. The watch has added skin temperature sensor, and longer-lasting battery life.
3- Fitbit Sense 2: Budget Performance smart watch for seniors in 2023-2024
The Fitbit Sense 2 is a great Smartwatch for seniors with a focus on health monitoring. It's not the cheapest option out there, but it's worth the investment if you're looking for best smart watch for a senior in 2024 that can help you stay on top of your health.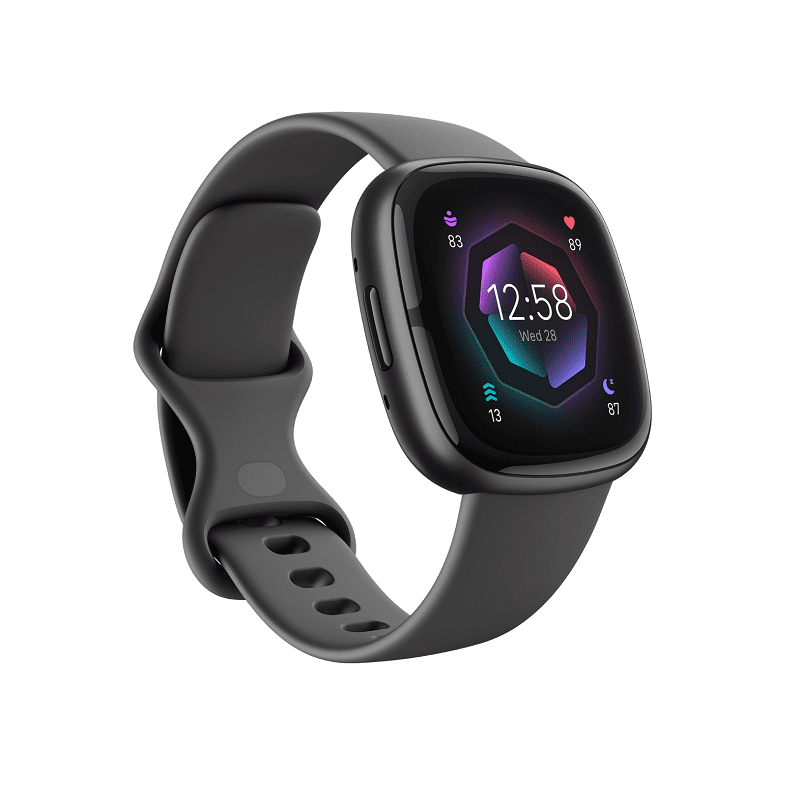 Fitbit Sense 2 Features for elderly
Heart rate monitoring: The Fitbit Sense 2 uses PurePulse 2.0 an optical heart rate sensor to track your heart rate. It can track your heart rate in real time, and it can also track your heart rate during workouts. The sensor can also be used to track your heart rate variability (HRV).
SpO2 tracking: The Fitbit Sense uses red and infrared sensors on the back of the device to measure your SpO2 levels while you sleep.
Stress tracking: Better sleep. Improved mood. More energy. Managing stress with Sense 2 can help you get there. Identify patterns of stress with all-day body-response tracking and smart notifications.
Sleep tracking: Sense 2 helps you get the sleep of your dreams. breaks down your sleep data each month and pinpoints how you can improve your sleep based on 10 key sleep metrics.
ECG app: Use the ECG app for on-demand atrial fibrillation assessment or turn on irregular heart rhythm notifications to assess your heart while you're still or sleeping.
Skin temperature sensor: Sense 2 helps illuminate changes in your wellness. Check your Health Metrics dashboard to see skin temperature variation
Overall, the Fitbit Sense 2 is a good smartwatch for people who are looking for a comprehensive health and fitness tracker. It is stylish, has a long battery life, and is easy to use. However, it is expensive and the ECG app is not available in all countries.
Ultimately, whether or not the Fitbit Sense 2 is worth it for you depends on your individual needs and budget. If you're looking for a comprehensive health for seniors with a long battery life, then the Sense 2 is a good option. However, if you're on a budget or you're not interested in all of the health tracking features, then there are other options available that may be a better fit for you.
4- Omron HeartGuide: Only FDA approved smart watch with a blood pressure monitor
The Omron HeartGuide is a wearable blood pressure monitor in the innovative form of a smartwatch. It accurately measures blood pressure, daily activity (including steps, distance and calories burned), pulse rate and sleep quality. It also functions as a smartwatch, where users can receive texts, calls and email notifications.
Stay Within a Healthy Range: Take clinically accurate blood pressure readings with OMRON premier precision-testing technology.
Monitor High Blood Pressure: If outside a healthy range, plan to contact your doctor if readings deviate from acceptable levels.
Track Fitness: Set goals and monitor your daily physical activity to achieve a more active lifestyle.
Monitor Sleep Pattern: Wear HeartGuide to bed to track your sleep patterns and analyze how your sleep habits affect your heart health.
Stay Connected: Set personal daily reminders and get notifications when you receive calls, texts or emails on your smartphone.
Smart watch price: $500
5- Freedom Guardian: Best Smart Watch for Elderly with medical alert
The Medical Guardian Freedom Guardian is a smartwatch that offers one-touch access to a live emergency response agent. It also works with user-friendly mobile and web apps that let caregivers, family members, and friends keep tabs on your whereabouts and monitor your SOS calls. The watch uses AT&T's cellular network to connect you to the emergency response center and uses Wi-Fi and GPS technology to pinpoint your exact location. Hands-free communication with emergency personnel comes by way of a built-in speaker and microphone. The right side of the watch has an on/off button and a red Help button. When you press and hold the red button for three seconds, it initiates a call to the emergency response center.
The watch itself is only $99, though you have to pay a monthly fee to access the 24/7 monitoring service.
6- Xiaomi band 8 pro: budget smartwatch for senior
The Xiaomi Smart Band 8 Pro was released in August 2023 in China and will likely be on the world market in 2024. It is a new product from Xiaomi that comes packed with advanced features and based on Xiaomi band 8 pro reviews, it is one of the best smartwatches for 2024. On the other hand it has a 1.74-inch AMOLED screen, GNSS heart rate, blood oxygen, stress, and sleep monitoring, over 100 sports modes, NFC capabilities, 50 meters of water resistance and a "very long" battery life.
Heart Rate
Blood Oxygen NFC
Sleep Monitoring,
Sports Bracelet
AMOLED Bright display
bigger battery life and capacity
Powerful processor
Can change to fitness or fashion with bands
Many workout options
Fairly accurate for exercise
Does track how often moved or got up
improved UI
Useful resources