Samsung Galaxy A52, price, reviews, pros and cons
---
Samsung Galaxy A52 5G 2021 (SM-A526F) smartphone released in 2021. It powered by the Qualcomm Snapdragon 750G chipset, 6GB of RAM and 128GB of internal storage. so how is Samsung a52 and what are the results of the experts' comments and reviews about the Samsung a52 phone?, what are the comments of real users? can i buy Samsung a52?
Samsung A52 5G 2021 runs on Android OS v11.0 right out of the box. It comes with a non-removable Li-Ion 4500 mAh battery. It has a 6.46 inch AMOLED display with a resolution of 1080 x 2400 pixels. AMOLED technology widely used for smartphones due to its amazing color reproduction capabilities and very deep blacks. The price of the Samsung A52 is about $ 300, and despite this price, it has solid features and is worth the price. If you want to have a better processor and better cameras than this, we recommend to see the Samsung S21FE and Samsung galaxy a72 Reviews.
2021 model A 52 phone price and Highlights
It has a 6.5 inch Super AMOLED display that combines a brightness of 800 nits and provides a smooth refresh rate of 120 Hz.
The device powered by a processor using the Qualcomm Snapdragon 750G 5G chipset.
As for the battery, the Li-Po 4500 mAh battery packs in a decent battery life and charges using 25W fast charging technology.
The back panel connected to a 64MP AI quad camera. in addition with a gorgeous 32MP selfie camera on the front.
The Samsung A52 offered at a reasonable price ($300 ), also a lot of features that can only be found in flagship phones and phones over $600 are offered on this phone.
If you want to buy a phone, we recommend that you look at the article "What should we look for when buying a phone?, to make your phone more useful, review our apps and 2021 best must have apps articles.
reviews pros and cons compilation
Pros compilation
Beautiful color options and new silky finish, stand out, stylish design, IP67 rating, Gorilla Glass 5.
Bright AMOLED display with 120 Hz refresh rate.
Solid battery life.
Impressive hybrid stereo speaker setup for its price range.
Latest One UI 3.1 and Android 11 install with lots of advanced Samsung features and the promise of 3 major OS updates and 4 years of security patches.
Versatile quad camera setup with OIS on the main 64MP snapper.
4K video recording from any camera and any zoom level.
25W fast charging support.
NFC enabled
Latest configuration of One UI 3.1 and Android 11 OS.
Good photography experience.
Maximum 4K video recording with Gyro-EIS.
It has 5G support.
You can play cutting edge games without any lag or lag.
stereo speakers
Audio jack and card slot.
Cons Compilation
You get a basic 15W charger in the box, although 25W charging is supported.
You can get a much faster processor than the Snapdragon 720G at this price point.
Color consistency in photos from the ultra-wide and main cameras takes some work, as does 1080p video capture.
The front camera is missing Gyro-EIS.
The screen does not support HDR 10.
No wireless charging support.
Legacy Type C 2.0 USB charging port.
The A52 smartphone is not suitable for low light photography.
Can't match competitors in terms of performance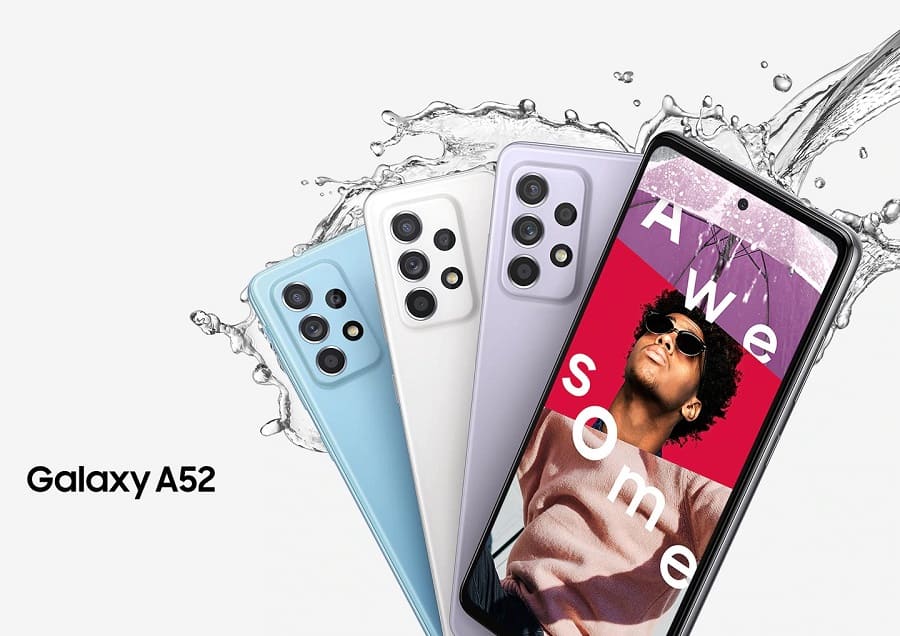 Attention: there are different Galaxy a52 phones in the market 2021 and 2020 versions
Some Samsung Galaxy A52s on the market have 2020 model A52 features, and some of the features we wrote above may be different:
No 5G support
processor used 720G instead of snapdragon 750G
display supports 90Hz instead of 120Hz
How are Samsung A52 User Comments?
Reviews with Positive comments
It can be bought just for the speaker.
Screen, camera, dual line use, one ui interface is really cool
The phone is really beautiful. Firstly The grip is of very good quality. secondly the camera shoots very well, so I am satisfied.
It's charging well.
The product is very nice, above all no need to doubt in terms of performance and quality.
the camera was scary but the shots are fine
It may be the best phone you can buy at this price right now, it's a complete f/p product.
Galaxy A52 is a price performance product. I advise. It is flawless with its Super Amoled screen, waterproof and excellent camera.
Ideal size, affordable, software super.
The phone definitely deserves the price you give and it worth it.
Today is the 3rd day since I started using the product and my battery is still 50%, I did not play games or anything, but I spent time on applications such as Instagram WhatsApp on the camera.
I'd say it's the best A-series to date. The guys really did.
Inexpensive, Realistic colors, Bright screen, Lightweight, Built-in speakers, Durable.
My first impressions are that the sound screen camera hardware is very good.
It is a very good quality phone for its price. The speed is fine.
Reviews with Negative Comments
The only problem is that the back side seems to be made of plastic you know. So it will probably break at the slightest drop.
The only minus for me is that the case is a bit thick, coarse and heavy, but this is not an extra Bi thickness. Because many high-end phones of the iPhone are thicker and heavier than this.
The screen bezel could have been a little thinner. The back of the phone is plastic, but it does not give the feeling of poor quality.
It would be nice to have headphones out of the box.
Its design is not very good. Since the case and cover are plastic, it does not give that premium feel.
The only problem is that there is a huge difference between the original camera and the Instagram camera. It would be 10/10 if they improve this classic android issue a little bit.
It takes a long time to take a selfie in night mode, it is difficult not to move it, and as a result, slippage occurs.
The phone heats up while charging with the 15-watt adapter that comes out of the box.
I upgraded from Note 5 to A52. But I'm not satisfied. In short it is a normal middle segment phone. But if possible, flagship devices and premium devices should be preferred.
After receiving my Samsung A52 model phone, the screenshot disappeared even after 24 hours. When I went to the Samsung service with a change request, they made me wait a bit and said it was a user error and asked for 700 TL.
When I shake my newly bought Samsung Galaxy a52 mobile phone, clicking noises are heard from the camera section.
The version with 5G is both 120 hz and snapdragon 750g processor, I think you should bring this model
galaxy a52 only has bad battery other than good
The sim tray is so naive it seems like it will break at any moment.
When I was video chatting on WhatsApp, my voice was muffled to the other side. We took it to the service, they updated and formatted, they said there is no problem, but the same problem continues.
Conclusion: How is the price of Galaxy A 52 Samsung, is it worth the price?
When we compare the Samsung A52 Pros and Cons with its counterparts, it gives the best value for your money and the Samsung A52 worth the price. I recommend Samsung a72 for those who want a more performance product. You can also review the ranking of the best phones of 2024. There are varieties with very high features that you can choose at a higher price in 2024, for example, you can review our article on Samsung S21FE Reviews, Pros and Cons, if you want a more affordable price performance product than Samsung A52, iPhone13 mini reviews, Xiaomi 11t Reviews , you can check the features and comments. If you are considering an iPhone phone, read our 2024 best iPhone to buy on a budget.
See Also