2024 Smartwatch Buying Guide, how to choose the best to buy, types, design, compatibility, OS, Battery, Features, Sensors and price.
Smart Watches have entered our lives in the last 10 years and have become an indispensable part of our lives these days. If you want to buy a smart watch, you are in the right place, in the rest of this article we will explain what to consider and what to pay attention to before buying a smart watch.
Dozens of companies, from big tech brands like Apple, Samsung, Fitbit, and Huawei, to traditional watchmakers like Tag Heuer and Fossil, produce smartwatches that deliver notifications, apps, and more to your wrist. The latest and flagship models such as the Apple Watch 7 and Samsung Galaxy Watch 4 offer capabilities and features even further.
1- Smartwatch buying guide, Category: is it really a smart watch?
All smart watches can count steps, heart rate, blood oxygen value, sleep tracking, etc., some can take up to GPS and blood pressure measurement. When we consider the features other than these basic features, we can divide smart watches into 5 main categories:
Smart WristBands
many Smart Watches you see are actually smart wristbands in watch form. In particular, we can place most of the Huawei, Honor, Amazfit, Xiamoi brands in this category. The main difference of these from real smartwatches is that you have very limited control of your phone and you cannot respond to incoming notifications. You will see notifications in such watches, but it is not possible to see them collectively or to respond on the watch. Other features of this type of watches:

watch dials are also at the discretion of the company and are limited in most of them. You can use the dials created by the company.
their charge can last very long (15-20 days maybe)
most of the time you can't make phone calls on the watch.
You can use it on both android and iPhone.
Samsung Tizen and Wear OS Watches
Tizen and Wear os Watches: these are real smartwatches. In these watches, you can have many applications and almost unlimited dial images via the tizen market or the play store on the watch. these dials can also be interactive. For example, when you touch the area showing heart rate data on the dial, it can turn on the heart rate sensor.
You directly read and reply to all notifications on your device. You can use phrases such as on-screen keyboard, voice typing, ok, yes, no while answering. they are unique in this respect and are habit forming.
Wearos watches google assistant work to full performance. You can read and create information such as reminders, alarms, phone calls, weather conditions, calendars via Google Assistant.
While normal sensors are active, their charge lasts between 1-3 days. The biggest problem of these watches is very high battery consumption due to running a huge operating system in the background. In contrast, it acts like a real smartwatch.
In all of them, you can answer a call on the watch and make a call from the phone.
Android for Samsung galaxy watch 3 and earlier, Samsung phone for watch 4 should be used. Some features of watch 4 do not work on non-Samsung android devices. Doesn't work at all on iPhone.
WearOS watches are connected with android phones and are incredibly compatible.
Wear OS can still preferred for iPhone.
Chinese Made Android watches.
The android operating system on the mobile phone you know works within these hours. Since it is the same as the android mobile phone, it does everything that the mobile phone does, including playing pubg. the battery sometimes only lasts a few hours, 95% of the time it's a disappointment.
Apple Watch
If you are using an Apple phone, definitely get this. Just remember to charge it every day.
Hybrid watches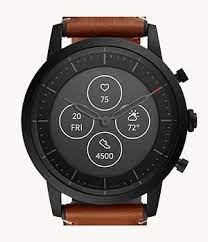 Hybrid watches have physical dials and a traditional watch face, but also include a Bluetooth connection, sensors for tracking exercise, and an accompanying smartphone app. Some hybrid watches also have a vibration motor to deliver notifications or silent alarms to your wrist, and most look like regular watches. Hybrid watches are very popular in the field of fashion, especially many brands owned and managed by the Fossil group. Like smartwatches, hybrid watches are made by Misfit, Skagen, Michael Kors, Fossil, and others.
2- Smart watch buying guide, Design: Smart Watch is also a Watch and a Watch is an accessory
Most of the time, a smart watch means the same thing as a beautiful earring for a woman. After using it for a while, you will think about your design and combination more than looking at weight loss programs or messages. For him, choose a model that has a beautiful design and suits your taste. Most smartwatches offer a variety of strap options and/or replacements. These are essential for customizing the look of your device. For example, you can choose the band color and material, as well as the face color, finish, and size before you buy it or change it at any time after you receive it. The smart watch should be comfortable to use. Some can be big and chunky. Newer models are less bulky and thinner.
3- Smartwatch buying guide, Compatibility: Phone compatibility and the OS it runs on
Like computers and smartphones, smart watches also have operating systems, the operating system is one of the most important things to consider. First, there's the WatchOS operating system, which used only by the Apple Watch. Then there's Wear OS, which owned by Google and called Android Wear until 2018. The name has changed to show that watches running Google's software work with iPhones and Android devices. Although Google does not produce a smartwatch on its own (these persistent rumors have not materialized yet). Smart watches produced by many brands use Wear OS. For instance from Misfit and Montblanc to Fossil and Tag Heuer. Apart from WatchOs and WearOS, there are many different operating systems and different manufacturers use each.
Smart Watch OS:
WatchOS: WatchOS only works with iPhone phones. It has built-in Apple ecosystem like Apple Music, Apple Pay and iMessage. watchOS also has numerous third-party apps available for download to the watch. The biggest drawback of watchOS is that it drains the battery very quickly.
Google WearOS: WearOS is the operating system developed by Google for wearable platforms. Although Google does not make its own smartwatches, this OS used by many other manufacturers such as Sony, Mobvoi, Fossil, Skagen and Michael Kors. WearOS is a scaled down version of Android and therefore integrates very well with Android phones. Google is working to add more features for iPhone users in recent updates.
Samsung Tizen: Tizen is an open source platform developed by Intel and Samsung. Samsung use it in smart watches and smart TVs. It's very similar to WearOS, but lighter, and doesn't support Google's app ecosystem. You can install various applications on the Tizen operating system, but they are generally not as efficient as Samsung's own applications. Samsung Health is a very powerful app for monitoring your health and wellness and is a Pros for Tizen, but Bixby instead of Siri or Google Assistant is useless and one of cons of Tizen.
Amazfit OS: Amazfit is new to the smartwatch world, but its devices are gaining attention thanks in part to their lightweight operating systems that offer excellent battery life. They co-developed the platform with Huawei. So many of the Lite OS cons also found in Amazfit's watches. It is very limited in terms of functionality due to the lightweight nature of the platform. For example, you can't make or receive calls on the watch. On the other hand on messaging, it limited to reading messages only, you can't reply from the watch. You cannot install third-party apps and download music apps on Amazfit. There are only basic music controls and you can control the music playing from your phone.
Other Smart Watch OS:
Huawei Lite OS: Lite OS is a Linux-based smartwatch Operating System developed by Huawei. It is also used in Honor smart watches, which were previously owned by Huawei. Most of the features of Lite OS Watches can paired to work on both platforms (Android and iPhone). However, media controls seem more limited on the iPhone. With Lite OS, you can make and receive calls from your watch with both Android and iPhone connectivity. You can only read messages but cannot reply. Lite OS does not allow third-party apps to be installed. So you are limited to Huawei-developed and pre-installed apps. The absence of third-party apps makes streaming music very limited. this OS seems to target the health and fitness market. The Huawei Health application on Huawei phones allows monitoring of exercise, steps, sleep, stress and more with the data it receives from watch sensors.
Fitbit OS: Fitbit has used as a fitness tracker for many years and is trying to enter the smartwatch operating system market with the same meaning. Fitbit OS can be used with both Android and iPhone. But some features like replying to text messages limited to Android. It can collect data from various fitness sensors, track exercise, stress, food intake, sleep and more. One of the key features of this fitness-focused OS is the ability to download music for offline listening. Currently supported services are Deezer, Pandora and MP3. But for now Spotify is not integrated for offline listening. Fitbit OS is the only smartwatch platform that offers both Alexa and Google Assistant. However, both assistants respond in text form instead of replying to you.
4- Smart watch buyers guide, Battery life: How long will it tick?
Another important factor to consider when buying a smart watch is that under normal conditions, the battery life should last at least 1 day on a single charge. There are low-featured wristwatches that can last 10-15 days on a single charge. Also there are smartwatches that don't even have a single charge for a day. This could be because of the number of apps installed, the bright screen or the big screen. Decide on the battery life you need based on your intended use. For basic use, choose one with fewer but basic features and good battery life, for other purposes choose watches with shorter standby time.
The battery of a smartwatch is an important aspect to consider before purchasing. Compared to fitness bands, real smartwatch batteries don't last that long. For example, Apple Watch uses a maximum of 18 hours on a single charge. The Samsung Galaxy Watch series is several hours longer than the Apple Watch. First decide what you will use the Watch for the most and consider how much battery it can consume, then decide which one is more suitable for you.
5- Smartwatch buyers guide, Features and Sensors: how functional is it?
New connectivity features adding to smartwatches every day. For example, new smartwatches have things like built-in GPS so you can track your route during your workout without having to carry your phone with you. If this feature is not available, your watch may need to be connected to your phone every time. This takes some time. Another feature is NFC, with the help of NFC You can pair your NFC-enabled phone and watch by touching the devices to each other. NFC can also be used as a mobile payment method. Support of eSIM, which makes calling easier, is another feature found in the best smartwatches.
When considering buying a smart watch, also check the apps you will install on your smart watch. For most people, the main purpose of buying a smartwatch is fitness features, and if you are one of them, we recommend buying a fitness band at a more affordable price. Smartwatches also have almost all of the fitness features, but the primary function of a smartwatch is to act as an interface for your phone. If you want to buy a Smart Watch or fitness band, make sure the fitness features and tracking are producing accurate results. some of them supposedly have those features, but they don't work well and they can show wrong information.
Smart Watch Sensors
Apart from the clock feature, there are some basic features like heart rate sensor or step track sensor installed in all smartwatches. Apart from the clock feature, all smartwatches have some basic features like heart rate sensor or step track sensor. Nobody buys a smartwatch just because it has these minimum features. As a Smartwatch buying guide 2024, pay attention to other features, such as:
SpO2 sensor, which measures blood oxygen saturation and heart rate
sleeping tracker,
auto-brightness sensor,
WiFi and Bluetooth connectivity,
GPS navigator,
NFC feature which makes pairing, answering calls, and even payment easier.
6- Smartwatch buying guide, Brand and Built Quality: How well is it built?
A good smartwatch should be solidly built and durable. Most cheap or bad smartwatches have unstable or poor buttons, loose straps, and poor image quality. We recommend watches with sturdy metal constructions or hard plastic frames. AMOLED display panel provides a better color display. The screen is essential as it needs to be seen in broad daylight. Check if it has good screen brightness and contrast. Make sure the straps are replaceable. Apart from its solid structure; It should also look good and attractive on your wrist. Make sure to buy a waterproof watch in case you want to use it for outdoor activities that may expose you to water or even sweat.
7- Smart watch buying guide, Display: Touchscreens or physical controls – it's your choice
Ever since brands like Realme and Oppo entered the smartwatch race, we've had more options than ever before. The screen is a crucial factor in the smartwatch buying decision. OLED displays are found on the Apple Watch and Samsung Galaxy Watch. Oppo offers AMOLED screens while Realme Watch has smart watches with LCD screens. The screen type and quality depend on the budget you will pay for the smartwatch.
There is also the option to have a touch screen or not. Touchscreen or physical controls? This is a purely personal choice. It depends on what is more convenient for you. Many people may be accustomed to physical controls, as they have used regular watches before. There are physically controlled smart watches for these people, but these watches do not have a touch screen feature. If you plan to work hard on the watch, the touchscreen is more suitable. In either case, make sure the display sensors and buttons are working properly before purchasing the watch.
8- Smartwatch buying guide, price: Best Performance vs affordability
After considering all the features, it comes to the most important issue in Smartwatch buying guide 2024, namely the price of the smart watch. Sometimes an expensive smartwatch is bought if it has high-tech features and is worth the money you pay. At the moment, you can get APPLE Watch 7, one of the best smart watches, with a price of 6000 TL, or you can get cheap models of Lenovo or Huawei with a price of 300-500 TL. Prices vary from brand to brand.
Of course, no one wants to spend most of their precious savings on an hour. Also, you don't need to buy the most expensive smartwatch on the market, even if you're in good shape. You can also find affordable devices with all the features you want in a smartwatch. In this way, you save valuable savings without sacrificing essential features.