Insurance types and definition in simple words 2023
---
Life will throw you a curve ball one day – no doubt about it. Whether you are insured or not. Insurance protects you from unexpected costs such as medical expenses. Everyone knows what is insurance and the simple definition of insurance. But while most people know the importance of insurance, not everyone knows about the different types of insurance and how they can help. After learning about insurance types and their benefits, you can realize which parts of your life are more risky. Therefore choose the right type of insurance against those risks and insure your life. In the rest of the article, we will explain the insurance types in simple words.
Some common type of insurances are:
Car Insurance
Life Insurance
Health Insurance
Home Insurance
National and Universal Insurance
Business or Commercial Insurance
1- Car Insurance Types in 2023
An auto insurance policy in simple words is a contract between you and an insurance company. You agree to pay the cost of the insurance policy, called a premium, and to obey the insurance company's stated rules. In return, the insurance company agrees to pay for certain expenses associated with an accident or other covered losses.
An auto insurance policy consists of different insurance coverages. Insurance companies offer many types of coverage, but only four are mandatory: Bodily Injury to Others, Personal Injury Protection (PIP), Bodily Injury Caused by an Uninsured Car and Damage to Others' Property. It is sufficient if you have a policy to cover that cases. Optional insurance coverages such as Comprehensive and Collision are commonly purchased by consumers, but is not mandatory.
Every insurance coverage has a limit, meaning the insurance company will not pay more than this amount for a claim. For compulsory car insurance, each of the required coverages has certain minimum limits and you cannot take less than those limits.
Life insurance provides services to your family or certain other beneficiaries upon your death. you can also deduct a portion of life insurance payments from your tax liability. Life insurance premiums are usually paid annually. It may include risks such as not only loss of life but also other permanent disability. Click to see the list of 2021 best life insurance companies.
Life Insurance Types
Term life insurance: With this type of insurance, you can protect your family financially against the risk of your own death within 1 year. You can add other coverages (such as disability, unemployment, etc.) to this insurance coverage. This insurance type is just like compulsory traffic insurance or motor insurance. If you lose your life while you pay premiums, the guarantee pay coverage, otherwise your premiums will wasted. In return, you pay less premium compared to the Collateral. For example, you can get the coverage expectation of 100000 TL for 1 year life insurance by paying a premium of 1000 TL. So, you can buy high coverages with small prices.
Permanent Life Insurance: Life insurance with premium refund is a long-term insurance, usually on a 12-year basis. If you die while paying regular premiums, the insurance company give coverage to your family or the person specified in the policy. If you are still alive after 12 years, you can get back the premiums you paid collectively. For example, for 12 years life insurance with 100000$ coverage, and get a premium at the end of the term, you need to pay 3500$ per year (a total of 40000 – 45000 dollars in 12 years). If you lose your life in the process, insurance Company give 100000$ to your family. But if you survive, you will receive the entire 45000$ premium you paid yourself.
3- Health Insurance types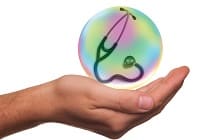 Health Insurance in simple words is a contract that requires your health insurer to pay some or all of your health care costs(medical services and sometimes prescription drugs) in exchange for a premium. Many Americans receive health insurance as part of a benefit package offered by their employer, but there may be other options available if you do not have insurance through a job, or the coverage available to you is too expensive.
Private health insurance policies cover some of the costs of treatment in a private hospital. Insurance can also help cover 'extras' – other medical services such as dental, physiotherapy, optical and more.
There are different types of health insurance plans to meet different needs. Some types of plans restrict you from choosing which hospital, doctor, or pharmacy. So point you to specific locations where the insurer has a contract. Others don't limit you, but you must pay greater share of costs for service providers that don't have a contract.
Some examples of Health Insurance plan types are Exclusive Provider Organization (EPO), Health Maintenance Organization (HMO), Point of Service (POS) and Preferred Provider Organization (PPO).
4- Home Insurance 2023
Your home is a valuable asset. In the event of any damage, if your home and its belongings are partially or completely unusable. After that home insurance helps to repair or replace your home and belongings. When you take out this insurance, you will insure, your household goods and contents. Insurance can even cover theft of your keys and items in your freezer. It can also provide coverage for personal liability.
Standard homeowner's insurance in definition, doesn't cover damage from earthquakes or floods, but it may be possible to add this coverage. Some examples of Home Insurance coverages are Damage to House, Other Structures, Personal Property, Additional Living Expenses, Comprehensive Personal Liability and Medical Expenses5- National and Universal Insurance.
5- National and Universal
Sosyal insurance system in simple words is a national program that protects citizens against what we calls life's ups and downs. For instance disability, loss of earnings in old age, layoffs, and other setbacks. The social insurance system also provides support to help people meet their basic needs and gain the skills and services they need to enter the workforce and be successful. It covers a wide range of government programs, from the Social Security system to Unemployment Insurance (UI) to early childhood education.
There is no universally agreed definitions of what social insurance is. It varies a lot in different countries or different provinces and local governments and covers different risks. By the base definition of social security systems, social insurance consists of government programs. In which workers (and/or their employers) pay taxes allocated to the programs during the years in which the workers are employed. Workers are then eligible for programs when they reach retirement age, are found to be disabled, are fired, or experience another qualifying event. The Social Security system as a whole, provide (1) education and workforce development; (2) health; (3) income support; (4) nutrition; and (5) support against risks.
Business Insurance protects your business from financial loss in the event of property damage, theft, lawsuits, and employee injuries or illnesses. Coverage varies based on the type of business you have, its industry, any additional protections you purchase, and more.
Most business owners think of insurance as a tax, an expensive necessity to be kept at a minimum. It isn't. It is a form of risk management essential to all businesses. Insurance is not just protection against risks. There are also many positive benefits and advantages. With the help of programs such as health benefits, you can retain quality employees. It can also improve your bank and supplier credit. It also provides protection against losing your property as well as your business income in the event of a fire or other event.
Some types of business insurance include Property Insurance, Liability Insurance, Motor Vehicle Insurance, Workers' Compensation and Life & Health Insurance.
See Also